What is Clip On thermal scopes?
Thermal clip-on scopes typically clip onto your rifle and sit directly in front of hunter's daylight scope. The device makes use of the high magnification of the daylight scope to extend its own range.
A clip on thermal scope can also be used on its own, simply attached to the rifle. Its distance ability will be less without day scope but you will still be able to see your targets in the dark. Thermal clip-on scopes are usually lightweight and non-bulky. They clip easily onto your rifle and won't add much weight. Some of these scopes are dual-purpose thermal imaging scope and are helpful in almost any hunting scenario.
The following are three comprehensive reviews of some impressive thermal clip on rifle scopes on the market, they were categorized into:
Most Affordable

Premium

Most Convenient



1. Most affordable: InfiRay Clip M series: CML25
Despite being affordable, the InfiRay CML25 is a high performance unit. One of the product's most invaluable features is its compatibility with virtually any day scope. And you can mount it on your scope without the need for zeroing. The simple and intuitive control makes the unit very user friendly – something novice hunters will appreciate.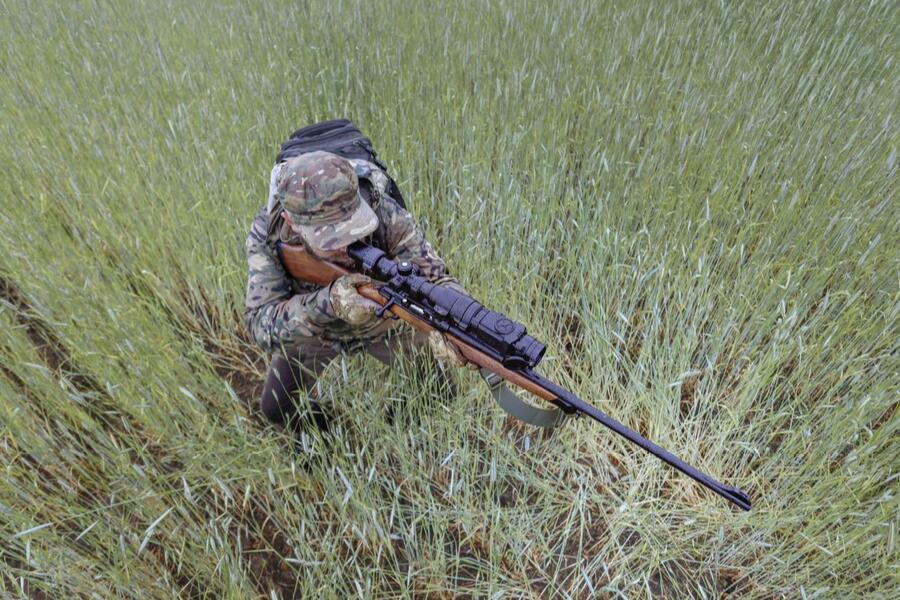 This thermal scope is designed to effectively detect objects in extreme darkness regardless of atmospheric obscurants such as fog, dust or mist once enabled its build-in ultra-clear mode. This means there is no need to adjust the day time settings on the scope when you want to use it for night-hunting.
2. Premium: InfiRay Clip C series: CL42
This high-end creation by InfiRay is a night hunter's dream. The resolution is high enough for there to be little to no discrepancy in imagery regardless of how much your need to zoom in. The image quality has to be seen to be believed on this military grade thermal clip-on.
The CL42 also has the ability to be used on its own as a standalone thermal scope without the help of a daylight scope. Impressively, combine with eyeshade, it can also standalone as a handheld thermal imager. The latest NO ZEROING technology is relatively simple to get the hang of.

The InfiRay CL42 is our pick of premium clip-on thermal scope. We just love its versatility.
3. Most Convenient: InfiRay Clip T series: CTP13
This scope takes the win of the most convenient clip-on thermal scope. With dimensions 77mm*52mm*46mm, this is undoubtedly one of the lightest and smallest thermal scopes on the market. Moving around with this clip-on thermal scope is as easy as can be.

Same as other InfiRay Clip series products, this cheaper and more compact model fit Picatinny rail well and do not need zeroing.