Eye II E6 Pro: Ultra-clear thermal imaging day and night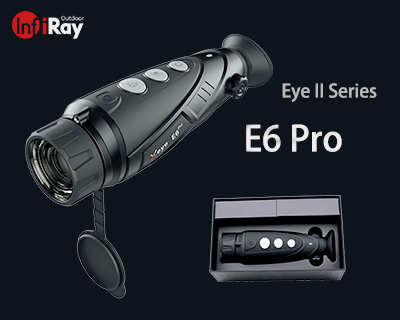 Thermal night vision devices have the great advantage of overnight vision devices that they can be used at any time, because they do not need any external light source, they detect the thermal radiation or heat signature that the objectives emit and convert it into thermal images so that the observer can get feedback through the eye. They can be used in closed or open spaces at any time and applied in a wide variety of applications: tracking wounded animals and other hunting scenarios, even for many non-hunting uses, like defending houses. etc.
As a consequence of this growing demand, companies are committed to releasing improved thermal models with the higher performance that achieve ultimate and clear images on the market year for year. Among these companies and thermal night vision products, the brand Infirayoutdoor and their product thermal monocular E6 Pro, they are truly protagonists of these notes.
Eye II E6 Pro
From Normark, which is the company that distributes products of InfiRayoutdoor in Spain, I received the Eye II E6 Pro thermal monocular devices. It has high shock resistance and is available for extreme humidity situations; the devices are also equipped with a 50 mm lens cap for the objective lens and flexible rubber protection for the eye-piece that allows your observation without any disturbing lights.
Combined with its 50mm lens it can detect objectives at a distance up to1833 meters and create sharp, crisp images on the 1280x960 pixels HD LCOS screen both day and night. In the upper part of device body there are 4 buttons and the fifth button is near the eyepiece: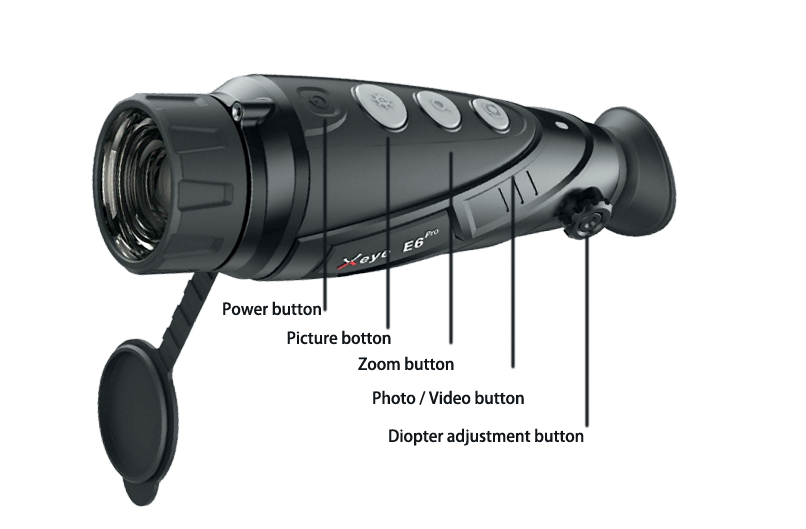 • Power button--It is the only button in black and use for the start or disconnect the device by long pressing for 3 seconds; very quick and sensitive.
• Picture button--mainly used for adjusting color palette and image brightness, having five color options: "white hot" "black hot" "red hot" "color" and "hot target highlight", the last mode helps to track the moving target easily for your observation.
• Zoom button--mainly used to adjust the digital zoom (2x or 4x, selectable).
• Photo / Video button--function for taking photos or videos.
• Diopter adjustment button--its shape likes a toothed wheel, functional to adjust the diopters so that we can see clearly the indications on the screen when turning, noticeable it should be ready before using the device.
Above the objective lens there is a laser indicator for tracking of the objects at night and can be activated by long pressing the picture button. At the base there are a tripod attachment and a USB charge port for the battery, the USB can be useful for the transfer of the videos and photos. Furthermore, to extend the battery life it has developed a standby mode and can be activated by pressing the power button only once.

When I first got the thermal device, I soon discovered that his battery was fully charged, I plugged it in and I could see the rooms of my house through his eyepiece instantly, in the same day I also discovered that it is well balanced and the fingers can reach comfortably the four main buttons on the top. So no hesitation I tried it on various outdoor occasions day and night, in good weather or inclement weathers like raining, I can always obtain clear images after focusing correctly and corresponding adjustments; no doubt because it indeed has a powerful thermal sensor and high-resolution display.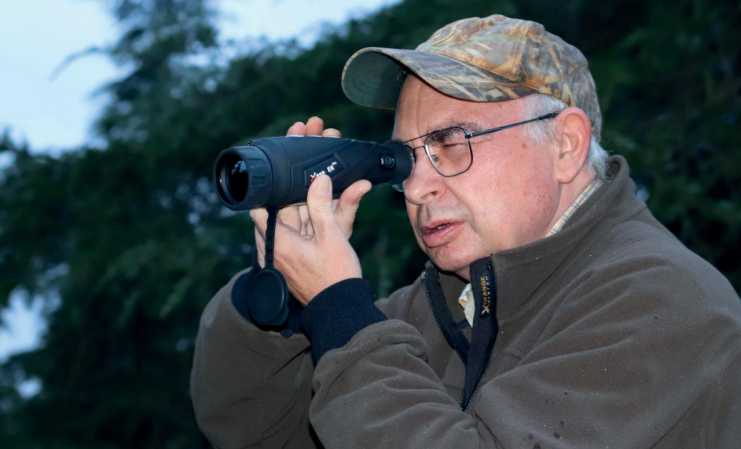 In summary, the Eye II E6 Pro can provide ultimate ultra-clear images, that is the biggest advantage for anyone who wants to save budget for a thermal, so I consider it will be a nice option for any user who needs a thermal imaging scope or thermal monocular for hunting or general use.
This article is translated from the original paperwork that written by our friend Juan Francisco París in Spain, thanks for his work!
If you want to find more information about E6 Pro, please click the website:
https://www.infirayoutdoor.com/thermal-imaging-scope-eye-series-v1-0_p55.html