Eye II series: Handheld Outdoor Thermal Monocular
What we saving budget for a thermal Monocular is hoping that they will be a game-changer when the light condition is low or there is no better way to observe with our eyes.


The Eye II series have all things good considered and have four models in series: E3Plus, E3Max, E6+, E6pro, all these are powerful as well cost-effective. Each comes with similar functional design pertaining to tiny classification for expectation with all customers.: all supply two standard sensor resolutions with same pixel size 17um thermal core: 384×288 and 640x512, three focusable objective lens options: 25mm, 35mm, 50mm, more specs check in the product detail page.

Eye II series: items of interest

User-friendly ergonomic design

The Eye II series come in rubberized finish and design ergonomically which makes it easy to handle in the field. It is light and weighs around 1 pound. The size and shape make it easy for one-hand operation and it performs simply, your fingers will find the correct buttons with ease after first touch. The Eye-II Series include a lanyard for hands-free carry in outdoor. The controls are easy to handle, Power on/off/standby, six levels of brightness, a zoom function and a video/camera share button.

Eye II Series image clarity

All InfiRay thermal units feature in ultimate image clarity, 17um thermal core with 384x288 resolutions or 640x512 resolutions result in more detection for heat signatures emitted by objects. The images output by 1280x960 LCOS display, more view details showed in the screen, like watching high-definition TV through the eyepiece. It has five color palettes: white hot, black hot, red hot, color and hot target highlight, they all work very well with spotting.

Eye II Series Battery

Any time when we talk about thermal optics, the subject of batteries comes up. The Eye-II Series thermal vision monocular has an internal, non-removable battery. Battery life is good, providing about 4 to 4.5 hours of run time if you are constantly scanning and taking a few short videos. That is good battery life, it does have USB power jack so you can use an external battery pack for backup. The internal battery has a 2 year warranty, you can send it back for service to get it replaced if needed.

Eye II Series: 1830 meters range detection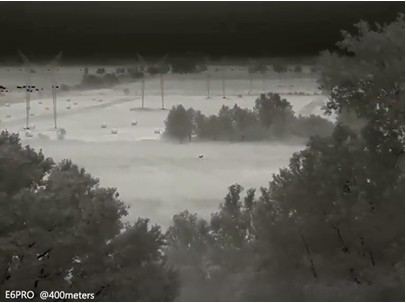 When the light condition is low or we have outdoor activities in the darkness, a long range observation given by thermal unit has improved our movement capabilities in wild. We tested with E6Pro in spotting from 400 meters, high edge contrast in imaging as you see directly. Image sharpness and quality has been improved due to the contrast. Behind the sheep herd shows thermal vision over 1000meters, the image processing looks still amazing.

The Eye II series have a built-in 8G memory module that supports video recording and photos that can be downloaded directly to your devices. Other features include picture in picture function, a built-in stadiametric rangefinder, and a 2x-4x digital zoom. It is a great thermal spotter for security, home defense, wildlife viewing and many other uses around the home and wild.