Gear Review: InfiRay Saim Series Thermal Scope
The InfiRay Saim 35 series are truly affordable ultra clear night vision optics that also come loaded with a number of other excellent features.
In this modern "Call of Duty" world, we often find ourselves walking away from the controller and into the game itself. This is evident once you pick up the InfiRay Saim thermal scope. The InfiRay Saims are the products of several thousand hours of research and development geared toward bringing a feature-packed digital optic to the consumer for a price that fits nearly every budget, particular for thermal hunting.
Fire It Up!
Once you hit the power button, you are taken to the home screen. From here you are ready to take a shot or navigate the menus for the various features. Without sounding like a commercial, let me list some of the features that you have at your disposal, and then we'll examine the most intriguing of the batch:
Night vision
Digital still and video camera
WiFi
Compass
Zeroing
Centering Up

Zeroing on this optic is different than what most shooters are used to. The scope is zeroed through a process that involves firing a shot, and then putting the reticle where it actually hit and holddown the menu button. Of course, if your shot is off the paper, then you must start closer and work your way back in small increments.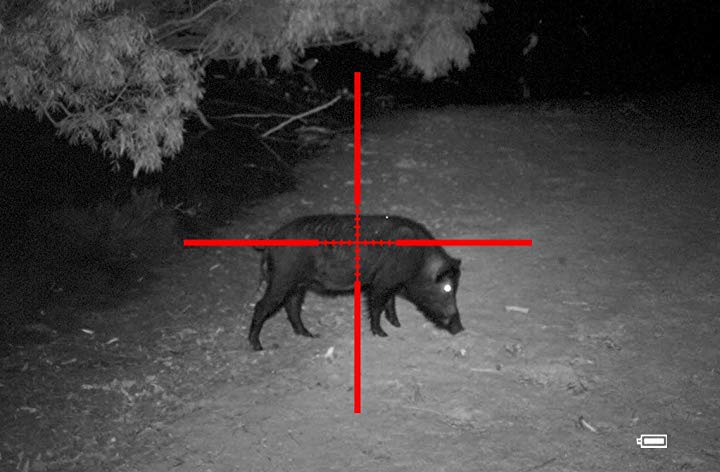 While all of the aforementioned features are certainly attainable for the price point at hand, the one that sets this optic apart is of course the night vision. Night vision alone can exceed the cost of the Saim35 series by four times, or more. InfiRay did an amazing job of making it affordable, ensuring the image ultraclear, yet not cutting corners in contrast or sharpness.

We used the night vision feature to aid our ongoing struggle with pest control. Among our zero profiles is a 15-yard zero for our Wolf Jager .22 air rifle, transforming it into the ideal tool to control raccoons, opossums or whatever lurks in the night around your trashcans. The Saim 35 will work well on any pre-charged pneumatic or CO2 air gun, just be sure to stay away from spring piston powered systems.

Do the Job!
If you are looking for an all-encompassing piece of equipment that has a terrific price point, this is it. Consider one for your next thermal hunting, big game hunt or even just an everyday range session, as this will fit the bill without breaking the bank.