MH25: excellent mate accompanies you on the journey
Look no further, MH25 is the absolute best helmet-mountable thermal imager available. MH25 provides a miniaturized solution for applications demanding small size, low power and low cost, especially for hunters who value the advantages of compact, helmet-mountable thermal monocular. Lightweight aircraft-grade magnesium alloy housing builds his ruggedness and remarkably compact size ensures that it can be concealed in the pocket. It also can be mounted easily on helmets due to its mini rail features. No doubt it is an all-weather perfect partner for outdoor trips.
Various options for Battery
Rechargeable battery types like 16340 and 16650 battery can be applied to the battery system of MH25, 16340 battery supplies a runtime of 1.5 hours and 16650 battery for 3 hours. There is a battery tube extender included in the package case which you can easily set the longer 16650 battery into the cell. Nearby the battery room it has a USB-C charging interface and you can charge your device with the rechargeable battery pack, in that way you can run the thermal imager up to 18 hours.

15mm short eye relief
15mm short eye relief is convenient for you to take the full image in a close range to the eyepiece. So whether you take the MH25 as thermal monocular or mount this unit on your helmets, short eye relief provides the most advantage for you because you need a close range to the eyepiece. Alongside that it ensures that you can capture the clearest, brightest and full image and prevents it from dreaded dark circles forming around your images.

K-CLIPS and Special PVS-14 Eyepiece for MH25
The k-clips are included in the package for special mini rail system of MH25 when it needs to be mounted on helmets. Besides this you can add specially made for MH25 PVS-14 Eyepiece assembly in your shopping list when you want to have night vision function on this unit. This PVS-14 eyepiece can perfectly fit into the scope with the adapter ring. You can order the accessory alone or together with MH25 from our dealers if you have needs for it.



1290 meters long range detection capability
Attributing it to the self-developed [email protected] Vox thermal core and together with 25mm germanium well-made infrared lens, the MH25 is capable of making detection at long range up to 1290 meters. Whether working as thermal imaging monocular with tiny compact size but also mounting on the helmet as part of thermal binocular if you like, it provides enough and long viewing for your trips.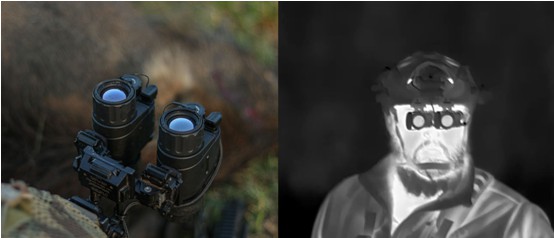 Wireless remote control
Firstly you can download the Xinfrared BC app from the application store. Through the Bluetooth function of MH25 you can achieve App connections with your thermal imager. Once you have connected successfully, the operation interface has intuitively shown the menu system in your phone or other available devices. You can control your thermal imaging scope on your phone or Ipad. It is especially expedient when the thermal unit is being helmet mounted.