The InfiRay DV DL13 is an innovative line of compact thermal imaging monoculars. These pocket-sized devices are excellent when trying to observe cryptic species or when surveying in dark or foggy conditions. The InfiRay DL13 uses a 384 x 288 thermal sensor to detect and night vision devices this process is not determinant on light conditions and the scope can be used in bright exposure as well as at night. The thermal sensor has a dramatically reduced pixel pitch of 17µm, which results in images with smoother edges, more detailed thermal mapping and an improved ability to detect objects compared to an equivalent sized sensor with a 20µm pixel pitch.
InfiRay DV series features fast germanium 13mm with 0.85x native magnification manual focus and up to 4x digital zoom, instant start up, 5 color palette modes including popular "Black Hot" and "White Hot".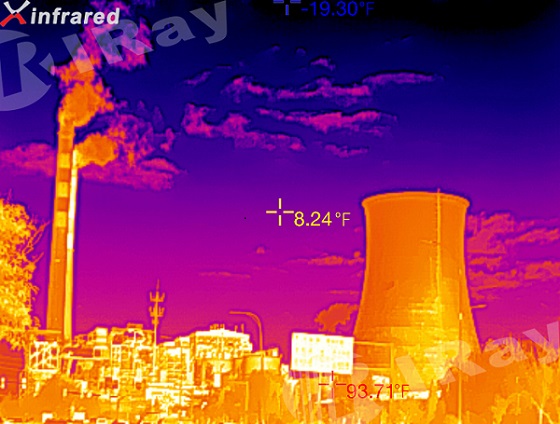 Features such as instant start up means you can quickly use the device when necessary. The InfiRay DL13 is designed for use as a spotting scope. It has an excellent detection range and refresh rate of 25Hz which allows you to observe fast-moving subjects such as bats.
Once plugged in smart phone, via proprietary Xtherm App, InfiRay DL13 could capture video in MP4 format and pictures in PNG format. This monocular is powered by one CR123 battery and ensure four hours operation duration.
Another significant feature of the InfiRay DL13 is temperature measuring. While connected with smart phone, the app will measure the thermal information of objects through the lens and convert the information into temperature data, in Celsius or Fahrenheit form. There are serial modes for measuring temperature. One mode can highlight the highest with temperature data in red color and the lowest temperature with blue color. Users can also select targets in the rectangle they 'draw' on the screen and figure out the highest and lowest temperature within the rectangle. InfiRay DL13 with Xtherm App, could be a useful tool for detecting people with a fever and help preventing the spread of pandemic COVID-19.
Features:
* Lightweight: The scope is made from lightweight plastics which ensures a decent structural integrity whilst retaining an impressive weight of only 89g.
* Show phone camera Picture: Once connect with Apps in smart phone, the App can display a second smaller original images from smart phone. Users could compare the original daylight image with the thermal image.
* Different color modes: This scope has five color modes that are used in different environmental conditions to enhance the image or reduce eye fatigue.
*Long operation duration: The scope needs one CR123 battery that will power the unit for up to four hours of operation on maximum mode.
Compact, lightweight and comfortably fits in one hand or pocket. One of the best choices for portable thermal monocular for spotting, scouting, temperature measuring and situational awareness.