Review (2): Brand-NEW Tube TL35 Thermal Riflescope
In the last review we've talked about part of the specs of TL35, and that's a brilliant, awesome, state-of-the-art design thermal optics scope as we've tested. ≤50mK NETD thermal sensitivity guarantees clarity of capturing images. 1280 x 960 LCOS display resolution that's amazing when you look in the scope screen what you got in real time. It presents a very big full image and very crisp details,

One of my favorite specs for InfiRay is he developed the Ultral-clear Mode, just click the function, the thermal sight system will adjust automatically and you'll get your thermal image shaper and more clear. The display screen and home page are pretty same as Rico, that's wonderful I bet once you click.

One of the great advantages again, the thermal can be able to mount on tool easily, because it does have the traditional rifle scope rail, it can fit into any 30 millimeter ring, having two rings to set up on weapon. I love the fluid scope shape and the mounting way on the rifle, the 60mm eye relief for me is perfect, it does come with a rubber cap.

We got a lot of calls from our fans and people who are interested in InfiRay, they want recommendations on scope, and we really try to find out the best scope that fit into their hunting conditions, and if you're someone who often takes coyote hunting in the big and tall plains region and taking regularly over 200 yards shots, we'll sure you're definitely going to want something with a higher base magnification. It provides PIP function to assist you with the targeting adjustment and that will be helpful when you try to shoot small targets in a long range.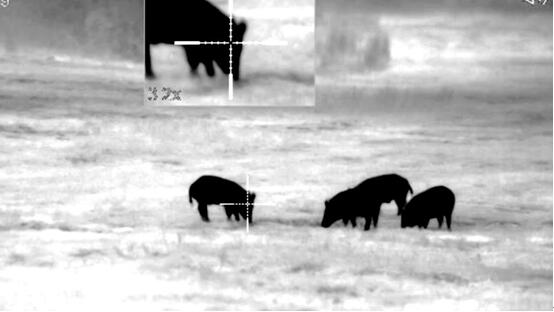 For longshot taker, taking shots over 200, 250 and 300yards, you're gonna need something as supposed with a higher base magnification, because with a compared narrower field of view it will feedback a golden thermal shot sight in the darkness.

One last big thing is that a lot of people concerned about is, the way high-tech could be gonna over my head and other thoughts like this, but you should know something that InfiRay's purpose is to make these things easy to operate probably easier than about anything else out there on the market. Once you site it in a couple times you'll be a pro, you know exactly what you're doing. The menu on this scope is very easy to use just like the Saim, it wasn't like trying to learn a new language when I using it. The one-shot zeroing is pretty much same as the Saim, easy use and no complications.

Thanks again, for more buying information, leave a message. I hope that everyone will enjoy with your new thermal scope!