Review of InfiRay DV DL13
InfiRay Thermal Imaging Scope DV Series DL-13 is remarkably lightweight and compact pocket-sized thermal scope units with weights only 89 grams. This scope basically looks like a traditional rangefinder, however, with far more significant capabilities: phone accessory, thermal temperature measurement etc.

Sensor resolution is 384x288 with a new 17μm pixel pitch while a Frame Rate will stay the same at 25 Hz. It is of paramount to understand that a combination of microsensor and 17μm pixel pitch enables the DL-13 to perform tremendously well. Compact and lightweight build also give credit to the microsensor which allows an entire composition to be so small. Start-up time has been reduced to a mere 3 seconds which is one of the most lightning fast start-ups in the market of thermal monoculars.

Calibration is shaped in the same trend as with the InfiRay devices – automatic and manual. When it comes to a display, DL-13 is available with a brand new HD microdisplay. The HD display is designed to face freezing temperatures all the way up to -20°C.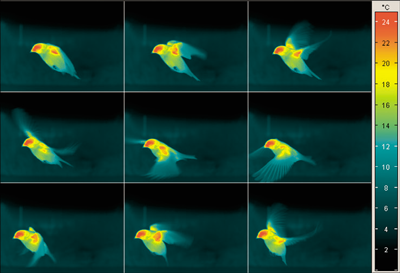 With DL-13, you are able to display a thermal image in 6 different colors. The White Hot and Black Hot are predominantly used for detection activities, High Contrast Rainbow and Rainbow display temperature differences of the observing object more significantly.DL-13, the handheld thermal imager can connect with smart phone via Type-C USB. All its functions perform well in smart phone, as phone accessory.