TL35-First Hunt: Ultraclear Thermal Imaging
The Tube TL35 is an upgraded successor which incorporates in rifle scopes with the new generation technology and pretty much put everything else to shame as well worth the price. Full Aluminum Housing, streamlined construction and cool shape, it will be a masterpiece. We're sure the scope will find favor with you all the time, it just looks like a black shadow, hiding you in the darkness and bringing you the first kill.
But we don't want to let the clutter words around your mind, more truth speak loud. Hunting live transfer is absolutely needed when you have saved up the budget for the TL35 scope. So we collected the following review, shows the imaging power pertained to the stuff in real hunting.
3.0 Base Magnification Is Usable
Probably confused is it to find a
thermal rifle scope
with the best base magnification when you start a thermal hunting. In principle there is so standard but indeed we have some tacit rules in the hunting, generally 2x to 4x base magnification is most admitted by hunters, too lower or too higher is terrible when you look as the stuff just starts up. The TL35 compared is a functional unit with 3x base power. No matter when you hunting hogs, deer or other more tiny targets, it looks better in your eye.
12um Thermal Sensor with 35mm Objective Lens
To begin with this part, I should notice that, the most expensive part in a thermal scope is the lens. If you want your scope like the Hubble, first probably your scope is big and much cost, so that's why we need to generate the thermal sensor, it allows us to run smaller lens in scope. But think about it, what we can do if we shot hogs with 5mm lens thermal scope? So that seems the perfect match of thermal core with lens is more important. More field of view, more details and better imaging processing, that's we need, so the TL35.
Long Shot-Range

For more intuitive comparison we selected out four images during the hunting at different shot distance, ensure that you can directly see the clarity and crisp image details for different range. From left to the right: shooting from 125 yards to 425yards. You can shot at the target with the built-in picture-in-picture (PIP) function. Quite frankly the image is awesome, clear and with the PIP it is powerful. I understand that many hunters who seek scopes to shot hogs beyond 300 yards, so you are definitely deserved to have this.
1816 Meters Long-Range Detection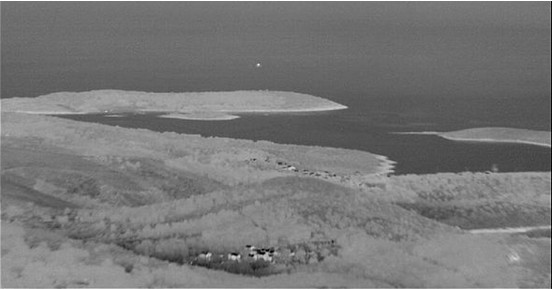 The target detection TL35 enables up to 1816 meters as we tested. Long range and sight feedback more view, holding the hunting chance in your hand. The last thing you should think just the joyful hunting out there. It's time to aim and pull down your trigger, one bullet with one shot when they pop up, no more confuse just trust, because you have one pro scope.