Clip on capability is super handy, especially if you hot swap your scope between different rifles. Given the flexibility of the platform, a clip-on model is the perfect thermal scope for a hunting rifle, since it gives you the ability to quickly change out your sighting system.
If you're on the market for a clip-on thermal scope, the InfiRay Clip M series CML25 is the way to go.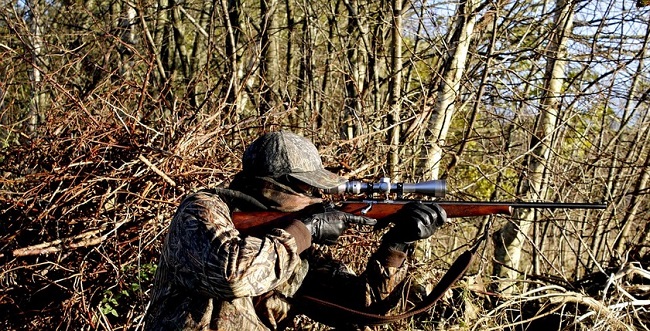 If you check the lens quality, you'll be happy to find that InfiRay used a germanium lens in the CML25 that's fully multi-coated for absolute infrared light transmission.
The raw infrared signature is detected using an InfiRay thermal camera, which delivers best-in-class thermal detection. The heat signature is drawn in a 384x288 detector array, and displayed on a high-resolution 1024x768 AMOLED screen.
Additionally, the CML25 offers 4 different color modes to maximize performance in whatever environment you're in. In short, you're getting thetop-notch performance when it comes to image quality.
The CML25 uses one CR123 (3.7V) or one 16650 battery as a power source. One CR123 battery will net you 1.5 hours of continuous operation. Furthermore, the 16650 battery will support CML25 for 4 hours operation. Keep in mind that these batteries can be tough to find at just any store, so you may need to keep a stockpile of them around. When comparing with other similar scopes in the market, the CML25 performed decent operation time.
What surprise me was that even though combined with many electronics, the CML25 runs light weight. It weighs around 0.6 pounds. However, it's still perfectly manageable for hiking or shooting from an unsupported position, it just releases burden from your shoulder. As what InfiRay announced, this scope attachment is "Small and Powerful".
For suiting your daylight scope, CML25 is packed with a M30×1.0 adapter ring. The M30 suits most daylight scopes. It also has two short picatinny rails on each side, providing extra extensibility. The CML25's camera does not need re-zeroing once attached to day scope, as InfiRay announced all you need is just "Clip and Shoot".
Once detached from scope, the CML25 could be used as a thermal monocular and outdoor tool: compass.
Lastly, the CML25 has a fair amount of video functionality. This scope can record video and take pictures as camera, and then export it to an external storage device. Additionally, the CML25 can be set up as a game camera or surveillance device, and controlled via smart phone app.
All in all, light weight, long operation time, multiple color modes, very clean imaging and no-zeroing, the CML25 is definitely the thermal scope you want to clip onto your rifle, especially if you're looking for amazing performance and versatility.