Whether you are new-coming thermal goers or loyal pro staff for thermal, having thermal imagers or devices featuring "clear" imaging will provide not only possibilities of object basic objects recognition, but also clearest thermal imaging with richer details and higher contrast levels. InfiRay Outdoor always puts the image quality to priority, so how does it realize "clear", let's discover!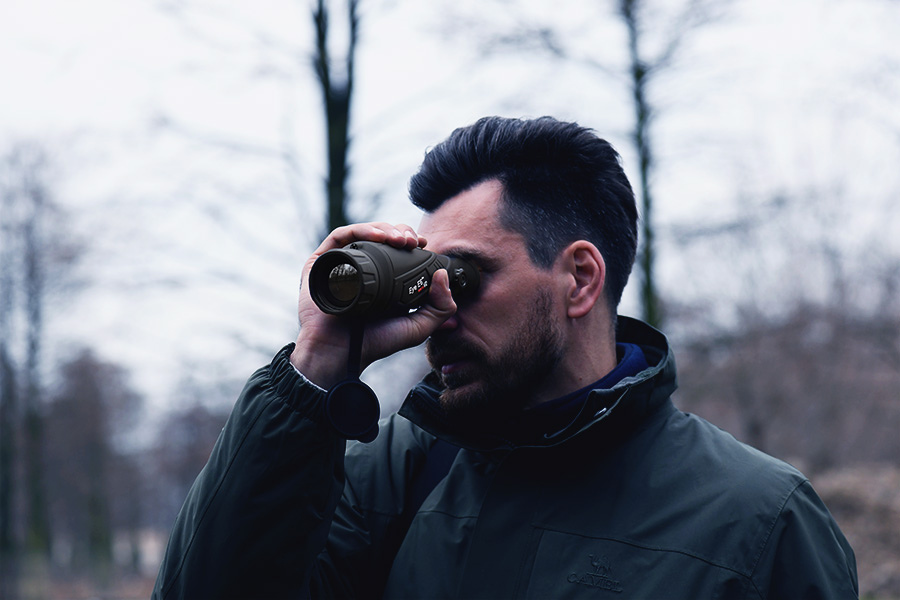 a) Top-notch and self-developed high-performance thermal sensors
The heat energy alone can't form directly imaging on the display, they need converting process becoming electronic signals supported by thermal sensors. InfiRay has world-leading thermal sensor technology and has adopted high-performance uncooled vanadium oxide thermal sensors on thermal outdoor products. These thermal sensors from InfiRay will result in higher thermal sensitivity, higher detail recognition capability and less limitation for the using conditions, creating higher quality thermal imaging with enhanced crisp details.
But Rome was not built in a day, industry leading thermal sensor technology of InfiRay derived from their persistent value pursue in:
1) Having built a mature R&D system(Research and Development)dedicated on thermal sensors and invested large number of resources in thermal sensor Tec innovation.
2) While 17μm is still the mainstream of the thermal imaging sensors, InfiRay's well-developed 12μm technology has been widely used.
3) Already developed industry-leading 10μm thermal sensor technology.
4) Capable of developing and producing the sensors by itself, which means InfiRay Outdoor can use its newest and mature sensor technology on the hunting devices more quickly compared with other competitors, ensuring InfiRay Outdoor to provide Ultra clear imaging for customers, improving user experience.

b) Adopting F1.0 thermal lens
The smaller the F aperture value of the thermal lens, the thermal energy transmissivity will be certainly improved. F1.0 stands for the focal length of the thermal lens equaling the diameter of the entrance pupil which also has higher requirements for producing cost and workmanship. Besides allowing more thermal radiation into the thermal devices, F1.0 thermal lens also facilitate effectively the reduction of noise and promotion of thermal imaging details. So for enhancing user experience in thermal InfiRay has already adopted F1.0 thermal lens in most thermal outdoor products.

c) Advanced proprietary integrated thermal imaging algorithm
InfiRay's proprietary Matrix III algorithm can achieve normal function of integrated thermal algorithms, intensifying the original thermal imaging formed by thermal sensor, improving the discerning of imaging. In addition, it will attach more importance to the processing of thermal details and sharpness and improve the object identification capabilities for users' eyes.
In conclusion, the secret of InfiRay Outdoor realizing "clear" thermal imaging features are coming from our strengths in:
1) Adopting F1.0 thermal lens
2) Top-notch and self-developed high-performance thermal sensors
3) Advanced integrated thermal imaging algorithm
Providing users with thermals featuring with clear imaging is also the unremitting pursue of InfiRay Outdoor.
Learn more about thermal products featuring with clear imaging from InfiRay Outdoor: