As our friends know, Saim is the earliest series pure thermal imaging scope of InfiRay outdoor. TheSaim seriesproducts have good market feedback. As a totally upgraded and top end product in this series, the SCH50 has advantages in brand figure and brand recognition.

The next age powerful thermal scope SCH50 adopts the 12μm detector with 640×512 resolution, objective lens of50mm focal length,1024×768 OLED display, and 48mm eye relief, more suitable for aiming. Functions such as the first time range notification function which enables users to set the prey height and effective range, the new added image brightness adjustment, image contrast adjustment. And there is great advantage in visual magnification -2.91×, detection range -2597m, etc.
As of the development and launch of the SCH50, the Saim series finally realized the infrared detector lens diameter 19mm, 35mm to 50mm, the detector chip pixel size 17um to 12um, the detector resolution 256x192, 384x288 to 640x512, Saim's full range of infrared scopes are reduced End-to-end product coverage, if you are a fan of Saim series and want to ungraded your device please do not miss SCH50.
In order to feedback and bring you more surprise in hunting, we make SCH50 to take you these benefits below especially.
High Cost-effectiveness
The SCH50 continues high cost-effective positioning for Saim series, providing with beyond value experience with a 12um detector of 640×512 resolution. You can see top hardware configuration items on its key components, such as F50/1.1 lens and 1024×768 AMOLED display, which keeps the image quality and product stability excellent.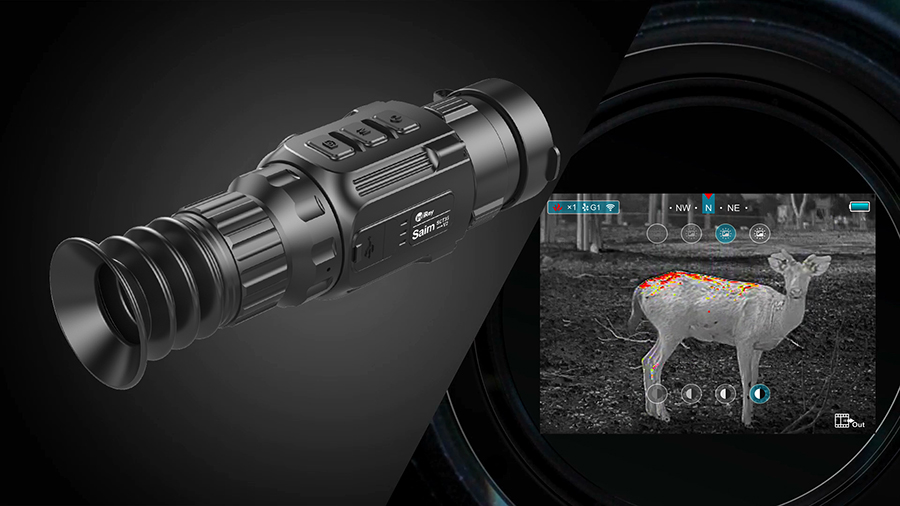 Excellent Image Quality
On the basic of the state of art thermal sensor and powerful MatrixⅢimage algorithm, the F50/1.1 thermal lens bring you fabulous image quality. Especially the ultra-clear mode, more details can be revealed in extreme weather such as rain and fog.

Practical and playable Functions
The SCH50 is equipped with multiple functions to improve hunting professionality and playability. In order to make users easily know whether the prey enters the range, InfiRay makes target height setting and first-time shooting range notificationfor the first time in a thermal scope. The target height setting is within stadia-metric rangefinder which enables the device to be adaptable to the sizes of prey in different areas, while the first-time shooting range notification function enables users to set the prey height and effective range. The 48mm exit pupil distance is more suitable for aiming.

Besides, SCH50 is built with memory of 16GB which can support to store video and pictures. The wifi hotspot of the product supports simultaneous connection of four devices. Recoil rated up to 6,000 joules for flawless performance on larger calibers up to .375H&H,12-gauge and 9.3x64.
By features and functions introduced above, believe that you have been attracted by the new Saim SCH50 thermal scope and can't wait to see the details of this scope. Learn more about Saim SCH50, please visit
https://www.infirayoutdoor.com/thermal-imaging-rifle-scope-saim-sch50-series_p68.html