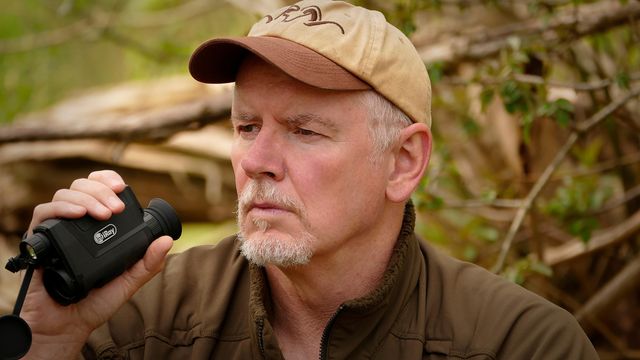 An impressive overall feature set for an attractively priced 388 thermal
The latest thermal spotter from InfiRay has arrived! The InfiRay CBL19 Cabin is a bit more unusual than most, as it appears to be a bit of a crossover concept. Paul Austin investigates...
All the typical InfiRay features but with a twist, which I suspect is meant to appeal to not only shooters but also the wild camping crowd and outdoor adventurer types.
From a purely technical perspective, there's nothing particularly new, with the tried and tested InfiRay 384x288 sensor at its core, but when it comes to form factor it is definitely a bit different. When I initially opened the box, there was a bit of head scratching as I puzzled over what appeared to be an LED torch plonked above the main objective.
Yet more innovation in terms of power with InfiRay opting a 3100mAh battery (two of which ship with the device) plus an optional accompanying external charger, both of which are very reminiscent of Pulsar's APS battery system as used in the Axion range.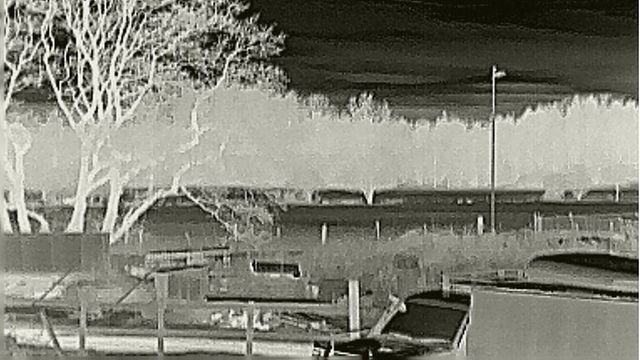 CBL19 Cabin image quality is pretty impressive for a smaller sensor
Below the objective, there's an unusual rocker lever focus, which as well as being a bit different is also surprisingly good and makes the unit particularly easy to operate single-handed. The rest of the controls sit on top of the device with four buttons allowing control of the core functions, as well as navigation and selection within the main and sub menus.
All the familiar IRay features are on hand with multiple colour palettes, a PIP screen, a stadiametric rangefinder, video and pic recording, motion sensor and compass, a 50Hz refresh rate and Ultra-clear (high contrast mode) and of cause WIFI connectivity to the app for remote control and file transfer.
Image quality is good and what you'd expect from a smaller sensor with a 19mm lens, but like all smaller lenses it's likely to suffer a little more than a larger variant in poor conditions.
The NETD rating is <40mk, so reasonable. It's probably best described as a good all-rounder in terms of thermal performance. The mag range, however, is spot on, with a base of 2x stretching to 8x via digital zoom.
For me, the jury is still out regarding the LED torch, although admittedly, it is handy to have a focusable torch in hand when picking up at the end of the evening or tracking shot game, not to mention navigating your way back to the vehicle after hours, so it's perhaps not without its uses.
It's an all-plastic affair, but the build quality is good. It handles nicely and accessing the various functions is very intuitive. A slightly higher spec finish on some of the metalwork would have been nice but that wouldn't be a deal breaker for me. It's compact, fits nicely in the hand and has a lot of features packed into a very small footprint.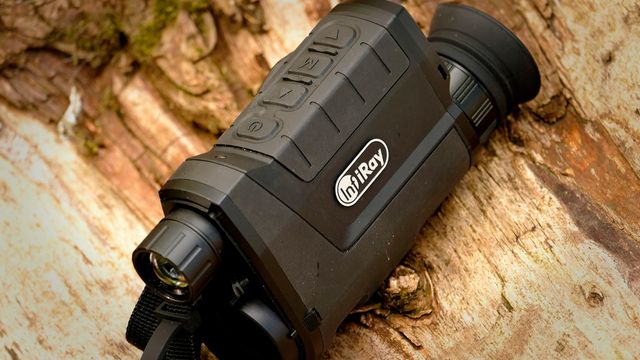 Good ergonomics and a small form factor plus an LED torch up top if you need it
Tech specs
Resolution, pixels: 384×288
Pixel pitch, μm: 12
NETD, mK: ≤40
Frame rate, Hz: 50
Objective lens: 19mm
Field of view: 13.8 ºx10.4 º
Optical magnification: 2x-8x
Diopter Adjustment: -5~+5
Detection Range: 1,350m (1.7m x 0.5m target)
Max battery life: 7.5 hours
Display type: LCOS
Display Resolution: 1280x960
IP protection: ip66
Built-in memory: 16GB
Wi-Fi: yes
App support: yes
Weight(without replaceable battery): 380g
Dimension: 165×50×85mm
You can find the complete review in the :
https://www.rifleshootermagazine.co.uk/kit-reviews/thermal/iray-cal19-cabin-thermal-spotter-review-8123438